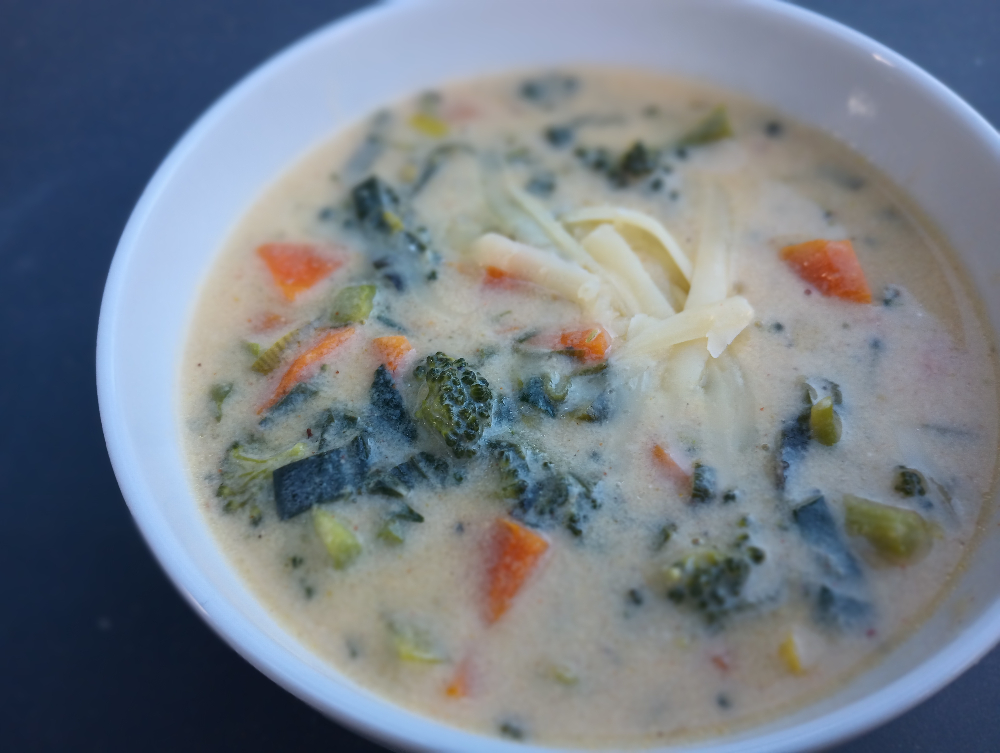 Before going low FODMAP, broccoli cheese soup was one of my kiddo's favorite foods. We went a long time without having any, since it took me a while to figure out how in the world to make a broth without onion and garlic. (Turns out it's actually not that hard!) This low FODMAP Broccoli Cheese Soup uses homemade chicken broth as the base, since any store bought broth is going to have onion in it. It also uses lactose free whole milk and cheddar cheese, which are both low FODMAP. The hard cheeses like cheddar and parmesan are two of your go-tos on a low FODMAP diet. That's because the FODMAPs are reduced during the aging process the cheese goes through.
Comforting and Nourishing
One thing I really like about this low FODMAP Broccoli Cheese Soup is that this is not just a homogenous ooze of orange goo. Unlike the store-bought kind they sell in the deli section at the grocery store! No, in this version you can actually taste (and see) the tender vegetables that are in there. It's not just comforting; it's nourishing too. In place of the artificial colors that give the store-bought version its orange color, my recipe gets its color solely from smoked paprika and cheddar cheese.
My inspiration for this recipe came from one of my very favorite food blogs, Budget Bytes. Beth has a dynamite recipe for broccoli cheese soup, but it uses onion, garlic powder, and flour. And of course, none of those are allowed on our low FODMAP diet. Here I've substituted the green tops of leeks for the onion, low FODMAP garlic-inused olive oil for the garlic powder, and a gluten free flour blend for the flour.
For a vegetarian version, substitute homemade low FODMAP veggie broth instead of the chicken broth. You can find my recipe for low FODMAP chicken broth here.
So give this low FODMAP Broccoli Cheese Soup a try, and let me know what you thought in the comments!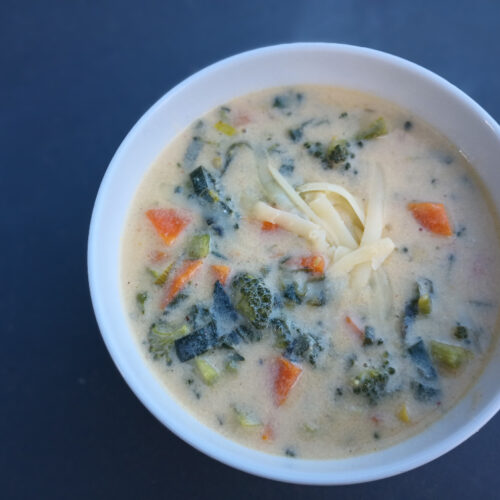 Ingredients
1

leek

green part only

1

lb.

broccoli

2

carrots

4

Tbsp

butter

4

Tbsp

gluten-free all-purpose flour

3

cups

low FODMAP chicken broth

sub vegetable broth for vegetarian

2

cups

lactose free whole milk

1/2

tsp

smoked paprika

1

tsp

garlic infused olive oil

20

freshly cracked black pepper

1

sprinkle

cayenne pepper

6

oz.

sharp cheddar

shredded
Instructions
Slice the leeks finely. Chop the broccoli into very small pieces. Peel and slice the carrots.

Add the butter and leeks to a large soup pot and sauté over medium until the leeks are soft. Add the GF flour and continue to sauté for about 2 minutes more, or until the flour is coating the bottom of the pot and is a light golden brown color.

Add the chicken broth and whisk to dissolve all the flour off the bottom of the pot. Turn the heat up to medium-high and, while stirring often, allow the broth to come up to a simmer. When it reaches a simmer it will thicken to a gravy consistency.

Turn the heat back down to medium and whisk in the milk, smoked paprika, garlic oil , black pepper, and cayenne pepper. Allow the broth to come back up to a simmer.

Add the chopped broccoli and carrots, allow the broth to come back up to a simmer, and continue to simmer the vegetables, stirring often, for 15 minutes, or until the carrots are tender.

Finally, turn the heat down to medium-low and stir the shredded cheese into the soup, one handful at a time, until it is fully melted. Taste the soup and add salt if needed (this will depend on the salt content of your broth).
Notes
Based on this recipe https://www.budgetbytes.com/easy-broccoli-cheddar-soup/
Nutrition
Calories:
234
kcal
|
Carbohydrates:
15
g
|
Protein:
10
g
|
Fat:
16
g
|
Saturated Fat:
9
g
|
Polyunsaturated Fat:
1
g
|
Monounsaturated Fat:
4
g
|
Cholesterol:
45
mg
|
Sodium:
566
mg
|
Potassium:
412
mg
|
Fiber:
3
g
|
Sugar:
6
g
|
Vitamin A:
3702
IU
|
Vitamin C:
53
mg
|
Calcium:
283
mg
|
Iron:
1
mg