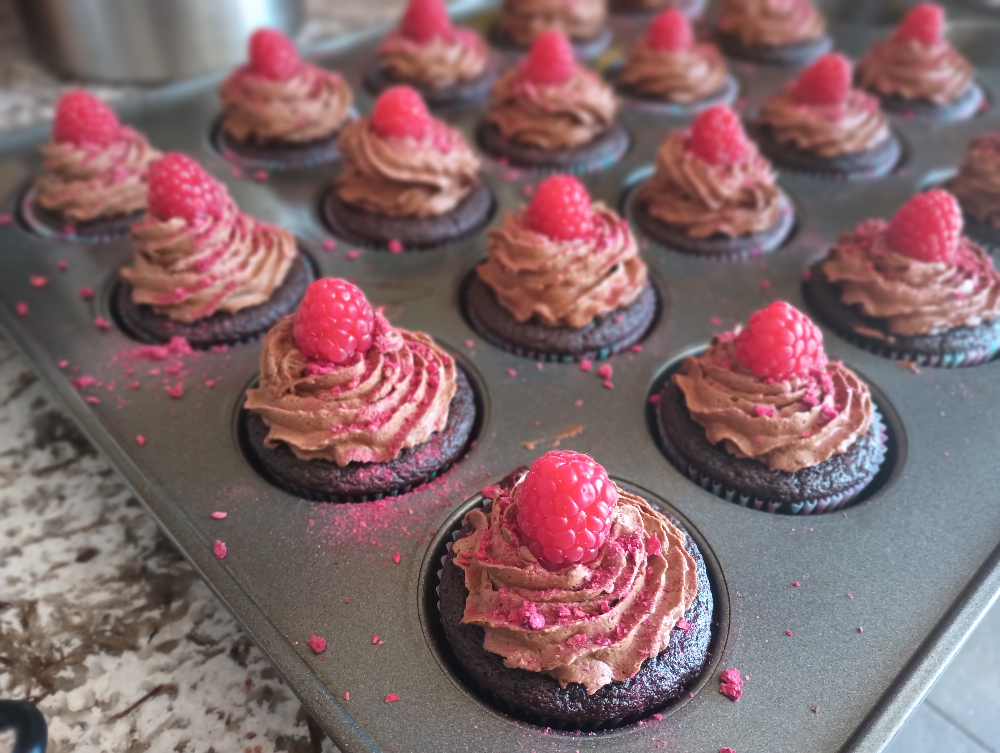 These Chocolate Raspberry Cupcakes are super yummy, they look sophisticated, and they're easy to make. My sister was having a birthday recently, and I wanted to bake a birthday treat that would let her know how special she is. It needed to be as full of sass and flavor as my sister. I didn't want it to be a kid's cupcake, but I still wanted the kids to enjoy it. And it needed to be not only low FODMAP (for my eldest), but also gluten-free and dairy-free, because my mom and I are both on (different) elimination diets right now. Yikes!
Also, if I'm being honest, I wanted these cupcakes to have that wow! factor while not being too difficult to pull off. Y'all, I get tired. That, and we live above 5000 feet of elevation, and so many scratch baking recipes just don't work out. It's such a heartbreak when that happens – all the effort and then they don't turn out. So I turned to a tried and true baking mix: Pamela's gluten-free chocolate cake mix. It's also dairy-free. This is not a paid endorsement (though I'd welcome that! ha!). I've just been using this cake mix for years, since my kiddos were little and we needed an allergy free treat to bring to school.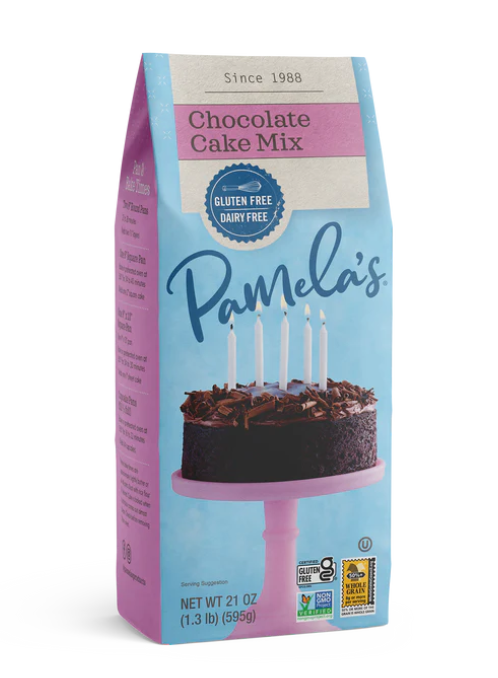 Because my sister's birthday weekend fell in the middle of an action-packed weekend, I baked the cupcakes the night before our get together. That way they had plenty of time to cool and I didn't have as much of a time crunch when it was time to decorate. (I don't like decorating under pressure!) I also made the raspberry jam from scratch (sorry, #overachiever). If you want to do that too, just take 2 cups of fresh raspberries, add a few tablespoons of your sugar of choice (I used coconut palm sugar but you might prefer gasp! regular white sugar) and cook it over medium heat until it thickens. Or go the easy/ sane route and just buy some dang raspberry jam. I mean, really. We are going for easy here, after all. And that's how I've written the recipe below.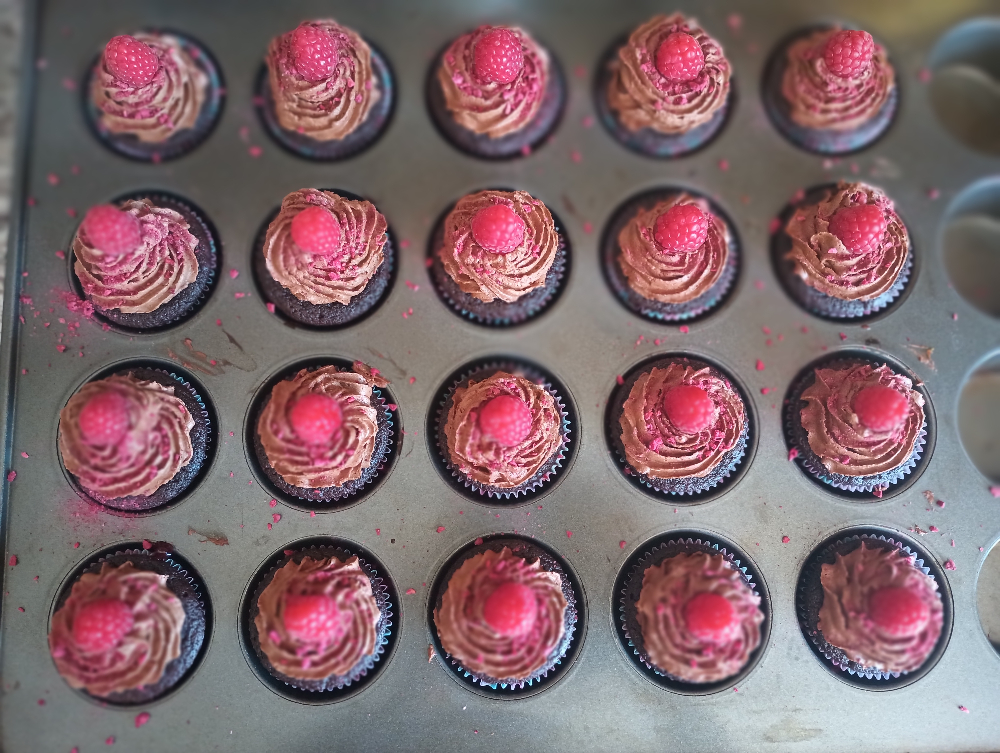 Now I'm really wishing I had taken a photo of the cupcakes out of the baking tin. Duh! Oh well. I guess I'll just have to make another batch to finish the photography. Somehow I don't think the kids will mind.
The final element that made these mini-masterpieces possible was a good dairy-free butter for the chocolate buttercream frosting. I've tried some other dairy-free butters, but recently came across Miyoko's. Their plant-based butter is cultured (fermented) so it has a kind of depth and richness of flavor that makes it perfect in a frosting. They didn't carry the unsalted variety at my grocery, but sometimes it's helpful to have a pinch of salt to bring out the sweetness. In any case, I thought this frosting came out so great, I might stick to plant-based butter even if/ when I don't have to anymore. Just be sure to let the butter come to room temperature. This can't be rushed – don't attempt it in the microwave! Take the butter out in the morning, and make the frosting in the afternoon. And for pete's sake ALWAYS sift the powdered sugar and the cocoa powder. Otherwise you'll end up with chunks in your frosting.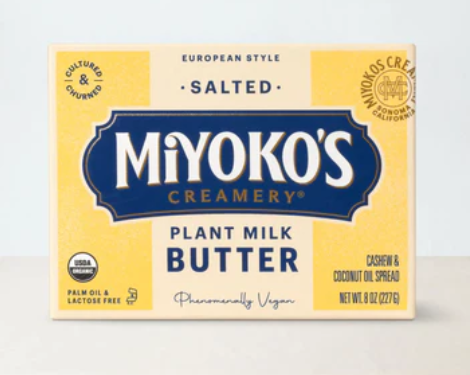 So the basic sequence of events for these cupcakes is: 1) put the butter on the counter, 2) bake the cupcakes, 3) melt the chocolate, 4) fill the cupcakes, 5) make the frosting, 6) ice the cupcakes, and 7) decorate with raspberries. This recipe makes what I consider a reasonable amount of frosting for each cupcake (as pictured). If you want a tower of frosting on each one, plan to double the recipe for the frosting.
I hope you enjoy these cupcakes as much as I did! It was really fun making them, too. Let me know what you think in the comments.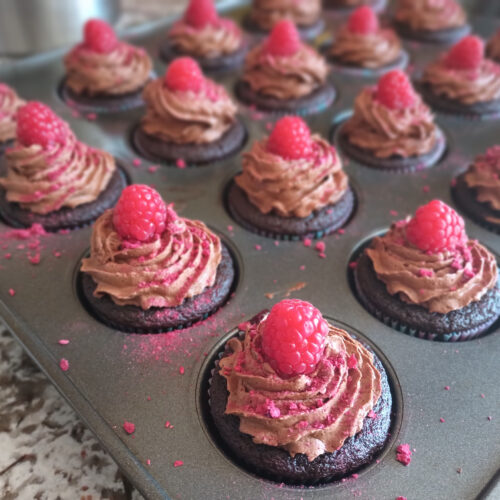 Ingredients
For the cupcakes
1

package

gluten-free chocolate cake mix

I like Pamela's

3

eggs

1/2

c

avocado oil

1 1/2

cups

water
For the frosting
8

oz

Miyokos plant based butter

1 package

2

cups

powdered sugar

sifted

1/3

cup

cocoa powder

sifted

100

grams

dark chocolate

melted, then cooled on the counter to room temperature
To fill & decorate the cupcakes
1

cup

raspberry jam

20

fresh raspberries

2

Tbsp

dehydrated raspberries

crushed
Instructions
Take the butter out of the fridge and set on the counter. It needs at least 2-3 hours to come to room temperature. Don't rush it. This is not something you can do in the microwave. To get a nice, creamy frosting you need a room temperature butter.

Follow the cake mix instructions to bake the cupcakes. (Preheat oven to 350*, line a cupcake pan with 20 liners, combine ingredients, etc. I use 3 eggs for a lighter cake.)

Melt the dark chocolate in a double boiler. (Take a small/medium saucepan, put 3 inches of water in it, and put a metal bowl over it. The bowl needs to be larger than the saucepan so it's not floating on the water. Put the chocolate chips into the bowl. Bring the water to a boil and then turn the temperature down to low. Stir the chocolate occasionally until melted.) Once melted, remove the chocolate from the stove and allow to cool to room temperature or slightly warmer on the counter. You don't want the chocolate to be so warm that it causes the butter to melt.

Fill the cupcakes with the raspberry jam. Either use an icing bag/gun with a Bismark tip, or use a melon baller to core the center of the cupcake to create a small space for the jam. It's ok that the top of the cupcake will be marred; this will be covered by frosting. Fill all of the cupcakes with the raspberry jam.

Make the frosting. In a stand mixer using a paddle attachment beat the butter for a few minutes, until fluffy. Sift in the powdered sugar, and beat for 5 more minutes. Sift in the cocoa powder, and beat a few more minutes. Finally add in the melted, cooled dark chocolate and beat until everything looks uniform and evenly distributed. It should be rich and chocolatey!

Ice the cupcakes. You'll want to use a star tip for this. Load your icing bag or icing gun with frosting and make swirls on all of the cupcakes. This recipe makes what I consider a reasonable amount of frosting for each cupcake. If you want a tower of frosting on each one, plan to double the recipe for the frosting.

Decorate the cupcakes. Crush up the dehydrated raspberries for sprinkling. Place one raspberry upside down in the center of each cupcake. Then sprinkle raspberry dust over each cupcake. Ta da! You did it!
Notes
If you prefer regular butter instead of non-dairy butter, substitute 2 sticks. Soften it to room temperature on the counter as you would with the non-dairy butter.
Equipment
1 Muffin pan

1 Stand mixer

1 Flour sifter

1 Icicng gun or bag

1 Bismark tip or mellon baller

for coring/ filling the cupcakes

1 Star tip

for icing the cupcakes
Nutrition
Calories:
349
kcal
|
Carbohydrates:
47
g
|
Protein:
3
g
|
Fat:
18
g
|
Saturated Fat:
4
g
|
Polyunsaturated Fat:
4
g
|
Monounsaturated Fat:
9
g
|
Cholesterol:
25
mg
|
Sodium:
211
mg
|
Potassium:
85
mg
|
Fiber:
1
g
|
Sugar:
33
g
|
Vitamin A:
38
IU
|
Vitamin C:
2
mg
|
Calcium:
27
mg
|
Iron:
2
mg