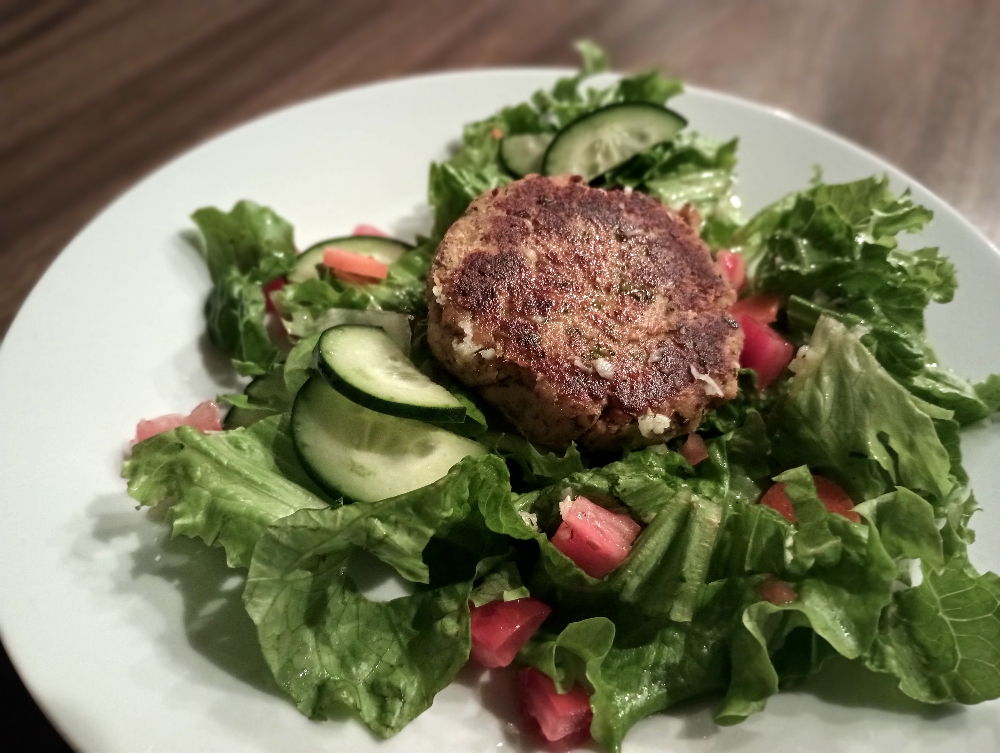 Healthy and economical, this Tuna Fritter Salad is refreshing and lemony, with the satisfying crunch of a tuna patty on top.
Feeling the Pinch?
I don't know about you, but inflation at the grocery store is feeling pretty real for me lately. I am one of those weirdos who tracks my budget from month to month, and I was stunned to see that this year's monthly grocery spend is nearly twice what it was a couple of years ago. Yikes! Once upon a time I couldn't be bothered to clip coupons, but now I've changed my tune. I clip them, I get them mailed to me, and I do the digital ones too. Even still, food costs keep adding up. And the biggest culprit in our shopping cart, when I took a closer look, was meat.
If I needed another motivation to get more plants in my diet (spoiler: I didn't), I sure got one. There have been long stretches in the past in which our family has gone completely vegetarian, and then later completely vegan. But now is not one of those times for us. With all the food restrictions my eldest has being low FODMAP, going completely vegetarian is just not a task I'm up to. Not saying it's impossible. Just saying it's a challenge I'm not prepared to tackle at the moment.
A Poor Man's Crab Cake
Anyhoo, this is a long-winded way of saying that these days, I'm more tuned in to economical sources of animal protein that are also healthy. And canned tuna sure fits that bill. I'm not tremendously picky when it comes to tuna – I like it in a lot of formats. But sometimes my kids complain that it tastes – or smells – "too fishy." What I love about this recipe is that with the lemon zest, parsley, green onion and Dijon mustard, these tuna fritters do not taste "fishy." Especially when pan fried to get that crispy crunch outside. They're like a poor man's crab cake. And who doesn't love a crab cake?
On a Bed of Fresh Greens
The tuna may be the star of the show, but the bed of greens it sits on can lay claim to the majority of the fiber and vitamins in this Tuna Fritter Salad. Here I've kept it simple with lettuce, tomato, cucumber, green onion and parsley. But feel free to throw in whatever strikes your fancy. It's all topped with a simple lemon Dijon dressing whose tang balances the tuna fritter perfectly.
Give it a try and let me know what you think in the comments!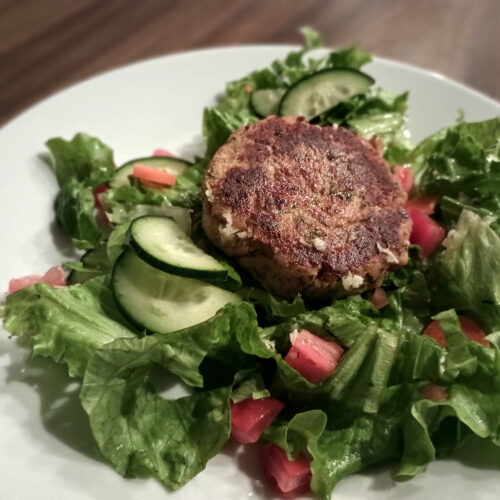 Ingredients
For the tuna fritters
3

5 to 6-ounce cans tuna

3

tsp

Dijon mustard

3/4

cup

gluten-free white bread

torn into small pieces

1

tsp

lemon zest

2

fresh lemon juice

2-3

Tbsp

liquid from the cans of tuna

3

Tbsp

fresh chopped parsley

chopped

3

Tbsp

chives or green onions

chopped, green parts only

Salt and freshly ground black pepper

to taste

¼

tsp

Tabasco sauce

to taste

2

Tbsp

ground flaxseed

1

eggs

2

Tbsp

avocado oil
For the salad
4

cup

lettuce leaves

washed and torn

1

tomato

chopped

1/2

cucumber

sliced

1

Tbsp

fresh chopped parsley

chopped

2

Tbsp

green onions

chopped
For the dressing
3

Tbsp

fresh lemon juice

3

Tbsp

olive oil

1

tsp

Dijon mustard

1/4

tsp

dill

freshly cracked black pepper

to taste
Instructions
In a medium bowl, combine the tuna, mustard, torn white bread, lemon zest, lemon juice, parsley, chives, flaxseed and hot sauce. Add salt and pepper. Taste the mixture before adding the egg to see if it needs more seasoning to your taste. Mix in the egg.

Divide the mixture into 4 parts. With each part, form into a ball and then flatten into a patty. Place onto a wax paper-lined tray and chill for an hour. (You can skip the chilling if you are short on time. Chilling just helps the patties stay together when you cook them.)

While the tuna fritters are chilling, assemble the salad in a large serving bowl.

Combine all of the dressing ingredients into a small jar and shake vigorously. Set aside.

Heat the avocado oil in a cast iron or stick-free skillet on medium high. Gently place the patties in the pan, and cook until nicely browned, 3 to 4 minutes on each side.

Serve a large helping of salad with a tuna fritter on top. Offer the dressing on the side.
Nutrition
Calories:
383
kcal
|
Carbohydrates:
17
g
|
Protein:
30
g
|
Fat:
22
g
|
Saturated Fat:
3
g
|
Polyunsaturated Fat:
4
g
|
Monounsaturated Fat:
14
g
|
Cholesterol:
87
mg
|
Sodium:
470
mg
|
Potassium:
926
mg
|
Fiber:
5
g
|
Sugar:
5
g
|
Vitamin A:
18403
IU
|
Vitamin C:
63
mg
|
Calcium:
164
mg
|
Iron:
6
mg