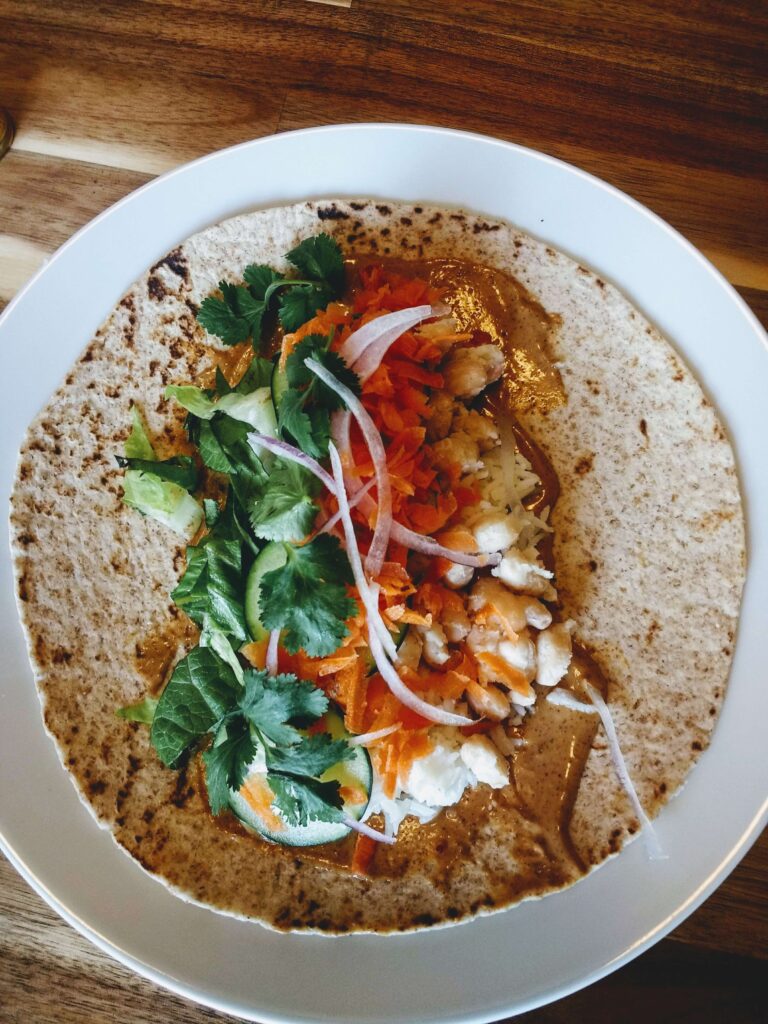 These Thai Veggie Wraps are so good, you'd never guess they were thrown together with whatever odds and ends I could find, plus the pantry staples I have in abundance. Since going into lockdown for Coronavirus 2020, I've been trying to ration the fresh produce we have to last as long as possible. We have a lot of rice and beans in the pantry, which are not usually my go-to items to cook with, so I've had to put a little more thought than usual into what to eat. I figure the best approach is to include some pantry staples in each meal, along with a few bits of fresh produce and other items we have in short supply.
Peanut sauce without the peanuts
These wraps include a homemade Thai pea-not sauce (made from almonds instead of peanuts) that has become a family favorite. I found a jar of it I'd forgotten about while rummaging through the fridge to take stock of what all we have on hand. But of course you could use store-bought peanut sauce if you prefer. I swear, a good sauce can take just about any meal up a notch.
Full of veggie goodness
These wraps also have basmati rice, navy beans, lettuce, cucumber, and carrot. I would have preferred to use green onions rather than red – and I actually had some on hand – but I'm saving them for later in the week. I was stingier than I would've liked with the cilantro because we only have a tiny bit left and I want to use some in at least one more dish. And I used whole wheat tortillas, because that's what I happened to have stockpiled. But you could use brown rice tortillas, or even collard leaves to roll up these Thai Veggie Wraps.
These Thai Veggie Wraps were a thrown-together stream-of-consciousness attempt at family sustenance. It was one of those moments when we all realized we were hungry – too hungry to think straight – and had no plan for lunch. I never expected them to turn out so good! I literally cannot WAIT until the next time we get to have them… Although if we're still on lockdown, that may have to be without cilantro!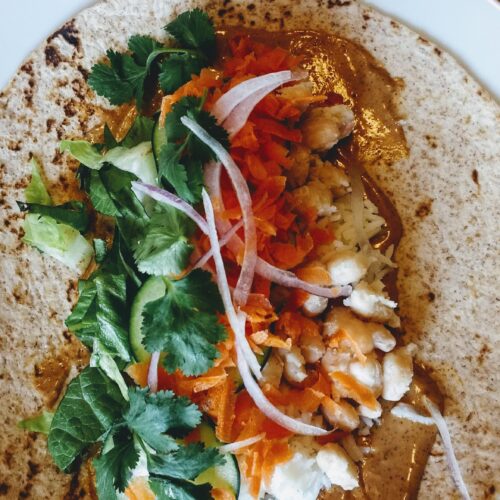 Ingredients
Homemade Thai Pea-not Sauce

recipe linked below

2

cups

cooked basmati rice

2

cups

cooked navy beans

Whole wheat or brown rice tortillas

1

carrot

shredded

½

cucumber

thinly sliced

¼

cup

thinly sliced red onion or green onions

Cilantro leaves
Instructions
Make Thai Pea-nut Sauce if not using store-bought: https://www.eatfreshmama.com/recipes/thai-pea-not-sauce/

If you haven't already cooked the basmati rice and the navy beans, do that now.

Shred the carrot. Slice the cucumber thinly. And slice/chop the green onions.

In your tortilla of choice, spread about 1 tbsp of Thai Pea-not Sauce. Add a scoop of rice, a scoop of navy beans, some cucumber slices, shredded carrot, onion and cilantro. Roll up and enjoy!