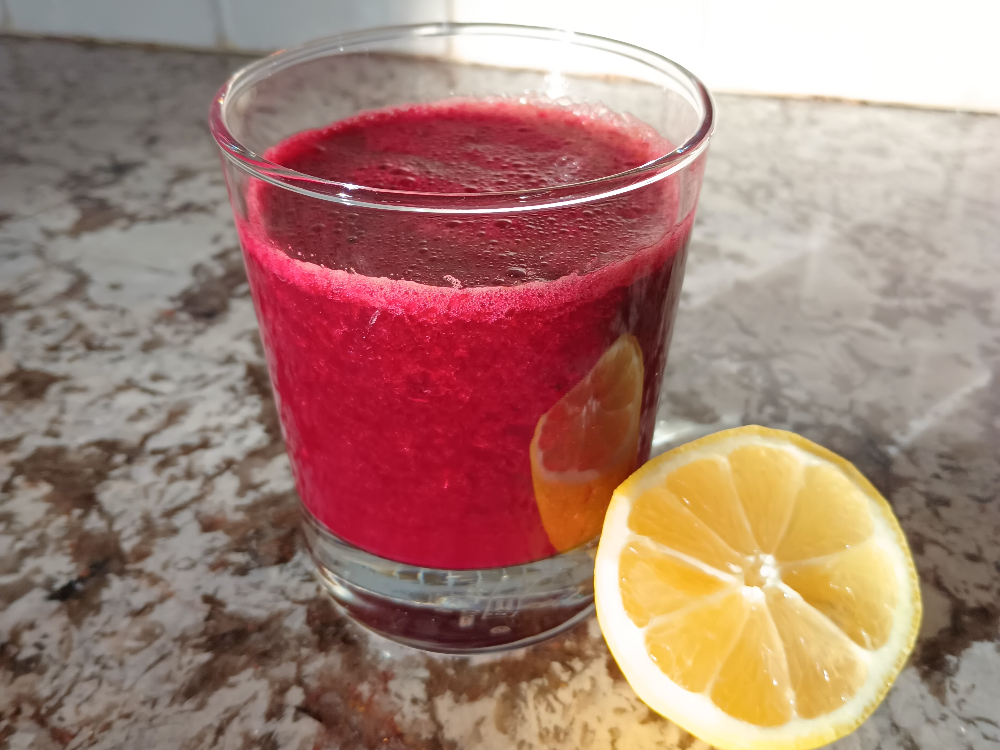 So true confession time. I love nearly all vegetables and fruits. Except beets. I hate beets! I mean, I really hate them. They make me want to gag. And it stinks because they are so good for you! They are low in calories and high in so many nutrients – folate, magnesium, potassium, Vitamin C, B6, iron, manganese – they even have a little protein. Beets can help lower blood pressure, improve athletic performance, reduce inflammation in the body, and ease digestion. They are little nutritional powerhouses. That's the backstory behind this Morning Beet Juice.
Meeting Myself Where I Am
Recently I've been on a kick to recalibrate my palate where it comes to beets. I want to see if this old girl can learn a new trick – learn to love beets. So far I'm only at Step 1 in this process. And that step is to get myself to think of beets as a sweet treat. So I've juiced them here with a carrot, which is actually fairly sweet for a vegetable, and two oranges, which definitely feels like cheating. I also added in the beet greens and half a lemon with the rind still on to brighten it up and distract me from the distinct "dirt" flavor beets have on my tongue. If lemon rind is too much for you, you can always peel it off before juicing the lemon.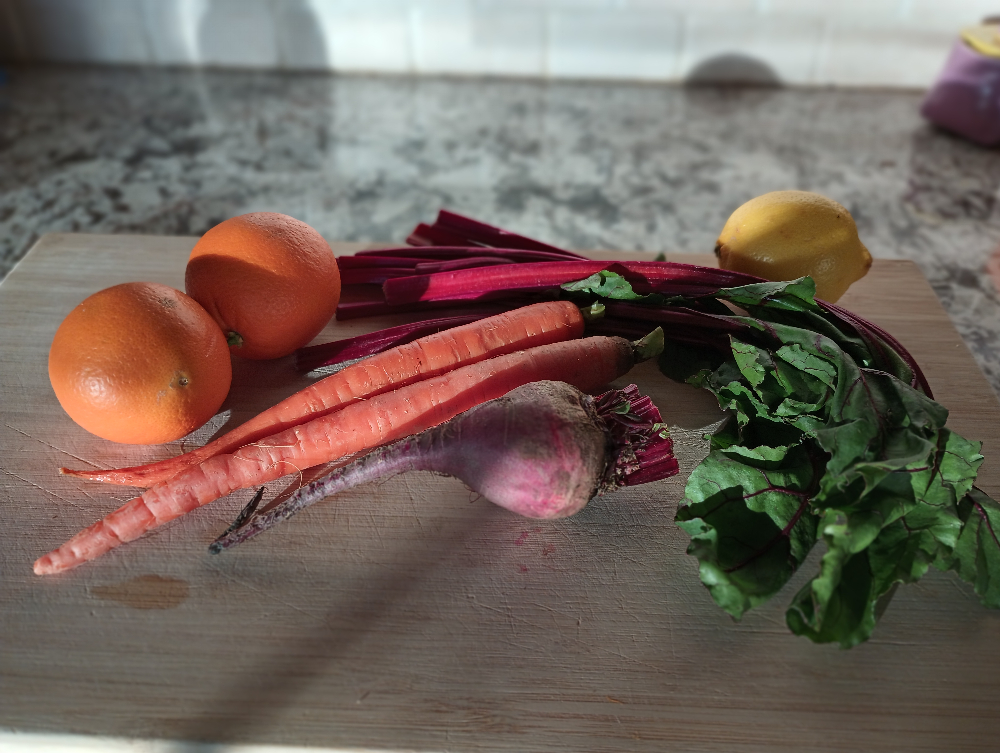 My Juicer
I use a masticating juicer made by Omega similar to this one. Juicers can get pretty fancy, and there are plenty fancier than mine, but it's been reliable for me for several years. Masticating juicers use a screw to extract the juice at a slow speed, instead of the fast-spinning blade on regular juicers. Because they operate at a slow speed, the ingredients don't get heated up in the process, so the delicate vitamins, minerals, and enzymes in the juice are not disturbed.
I'm not sure what the results would be if you used your more typical high-speed, centrifugal type of juicer with this recipe. Specifically I'm thinking you wouldn't get too far with the beets or the carrots, since they're so hard. I typically try to share recipes that are accessible to folks with a wide variety of kitchen equipment (or lack thereof), so I apologize that this recipe likely requires a piece of fancy equipment. I just wanted to share a "win" I'm having in my own kitchen.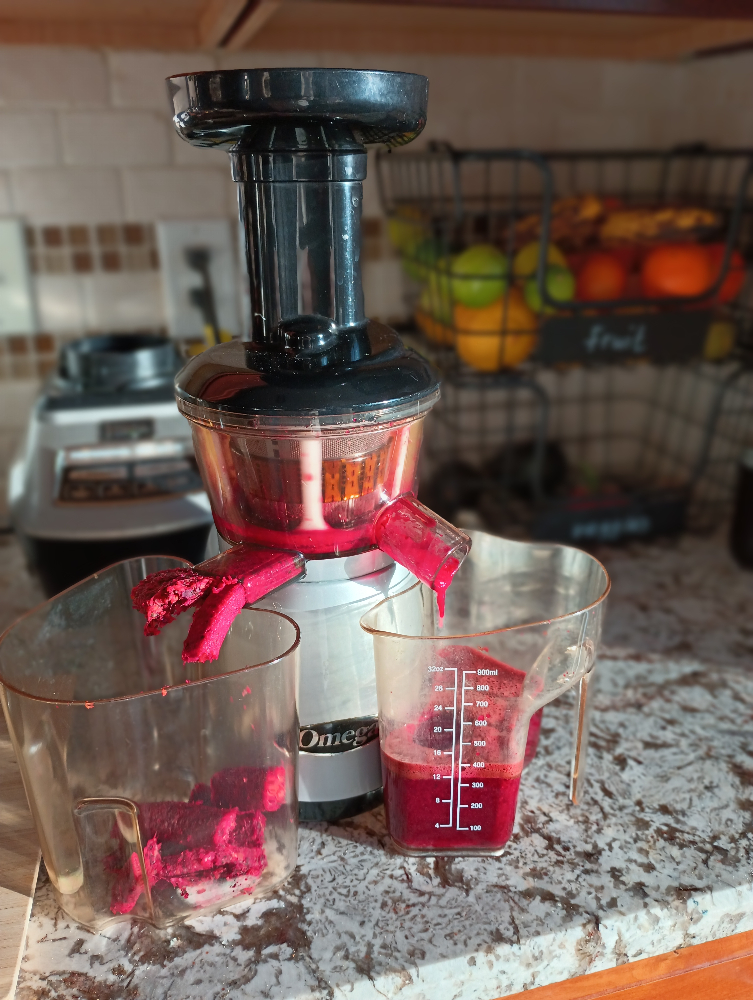 The End Result
The result is a very drinkable, highly enjoyable juice. Because of the two oranges, you definitely can't call it low glycemic. But I'm not going to waste energy feeling badly about that. In my experience, change is most possible when we meet ourselves where we are. And this is where I am right now. I set out to find a recipe that would allow me to enjoy beets, so mission accomplished! Enjoying beets for the first time, with a little help from some oranges.
Have you tried this Morning Beet Juice? What did you think? Let me know in the comments!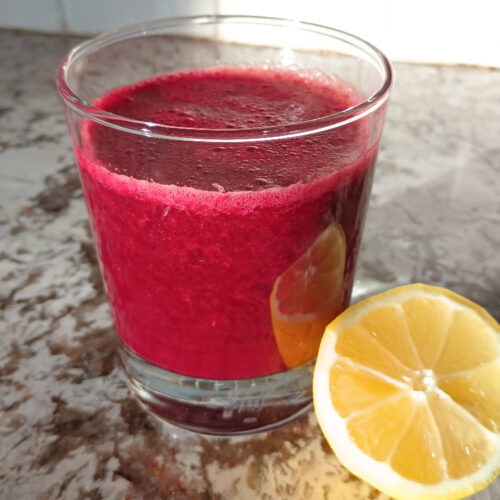 Ingredients
1

beet

well scrubbed

1

bunch

beet greens

1

carrot

2

oranges

peeled

1/2

lemon

with peel
Instructions
Separate the beet greens from the beet root. Cut the beet root into large chunks.

Feed the beet greens, the beet chunks, the carrot, the orange pieces, and the lemon half into a masticating juicer.

I usually run a 1/2 cup of water through the juicer to help get the last bit of goodness out. Once everything is through the juicer, stir it well and skim off any foam. Enjoy!
Notes
You could always add a small chunk of ginger or turmeric to further enhance the anti-inflammatory properties of this juice.
Nutrition
Calories:
100
kcal
|
Carbohydrates:
25
g
|
Protein:
2
g
|
Fat:
0.4
g
|
Saturated Fat:
0.1
g
|
Polyunsaturated Fat:
0.1
g
|
Monounsaturated Fat:
0.1
g
|
Sodium:
55
mg
|
Potassium:
509
mg
|
Fiber:
6
g
|
Sugar:
17
g
|
Vitamin A:
5441
IU
|
Vitamin C:
88
mg
|
Calcium:
77
mg
|
Iron:
1
mg