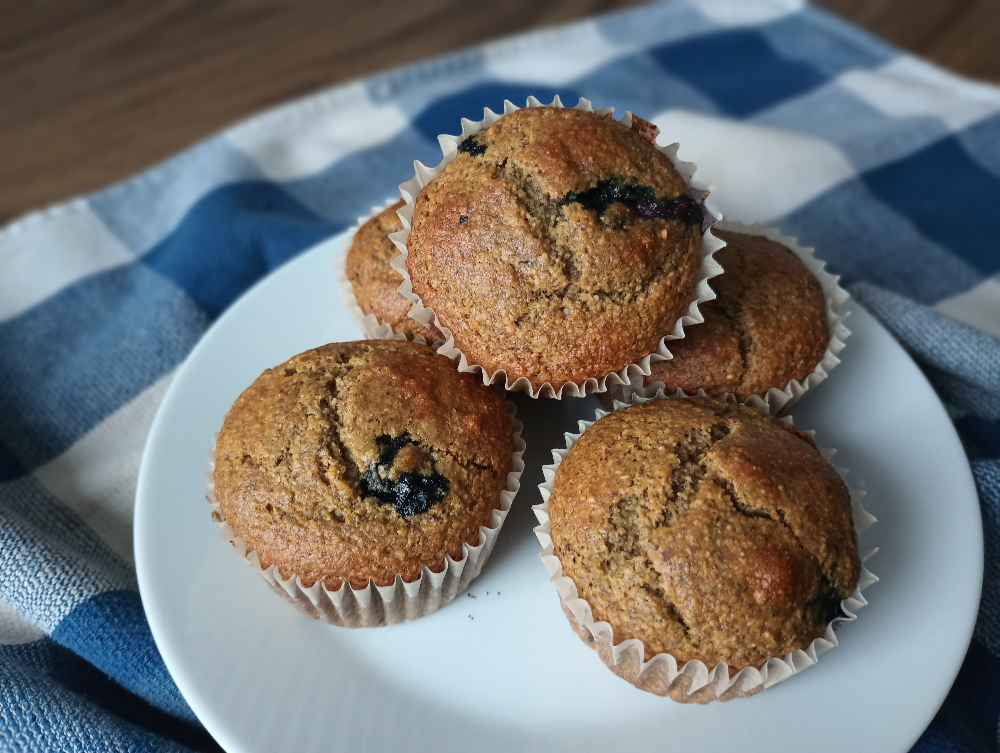 I don't know about you guys, but my kids are muffin crazy. And muffins are so versatile! When we have a batch on hand, they make for a quick breakfast on the go, a satisfying afternoon snack, or even a filling dessert. These Blueberry Banana Muffins get their sweetness from juicy blueberries, coconut palm sugar and mashed banana, so they shouldn't spike your blood sugar. They offer protein in the form of almond butter. And they're rich in fiber, thanks to the oat flour, almond flour, flaxseed and blueberries. They are also packed with healthy fats, which are good for your heart and help with satiety (feeling satisfied, so you don't feel the need to keep gobbling mindlessly).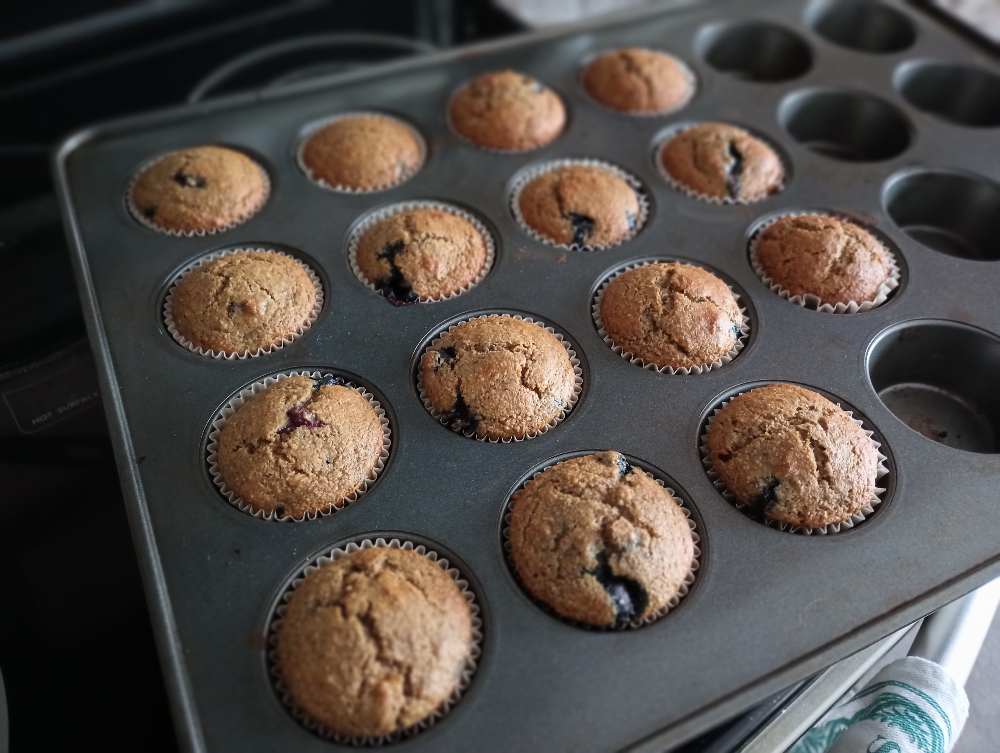 Although it's a little more work mixing together a variety of flours rather than reaching for an all-in-one gluten-free flour replacer, many of those products lean heavily on starches, potato flour, and rice flour. Those ingredients are ok, but they don't offer the nutrient density of these muffins. Starchy flours may also be more likely to spike your blood sugar, and less likely to leave you feeling satisfied. It's always good to have options, right?
What About a Vegan Option?
As usual, the only change you need to make to these muffins in order to make them vegan is to swap out the two eggs for two flax eggs or six tablespoons of aquafaba (the juice from a can of chickpeas – I know, unexpected, right?!)
If your people are as muffin crazy as mine are, you can also try these Chocolate Chip Banana Muffins or these gluten-free Pumpkin Spice Muffins.
If you wanted to, you could always add 3/4 cup of chopped walnuts to this recipe. I love nutty muffins, but my kids… not so much. Nuts or no, whatever you decide, we hope you love these gluten-free Blueberry Banana Muffins as much as we do! Let us know in the comments.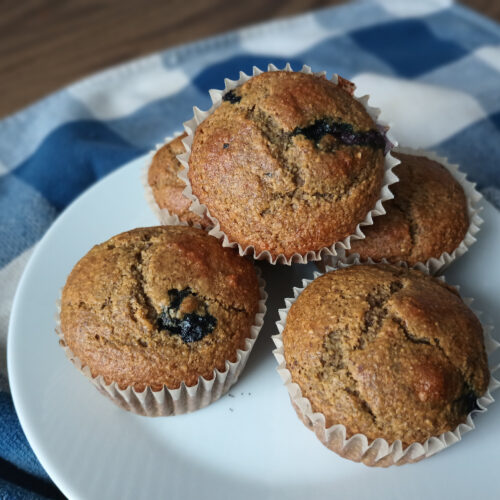 Ingredients
1

cup

oat flour

3/4

cup

almond flour

1/4

cup

flax meal

1/4

cup

tapioca flour

1/4

tsp

sea salt

1

tsp

baking soda

1

tsp

baking powder

1/2

cup

coconut palm sugar

1/4

cup

almond butter

2

eggs

2

bananas, mashed

1

tsp

vanilla extract

2

tbsp

almond milk

or milk of choice

3/4

cup

blueberries, fresh or frozen
Instructions
Preheat the oven to 350* and line a muffin tin with 12 cupcake liners.

Combine the dry ingredients in a large mixing bowl: oat flour, almond flour, flax meal, tapioca flour, salt, baking soda, baking powder and coconut palm sugar.

In a separate large mixing bowl, beat together the eggs, almond butter, bananas, vanilla, and almond milk,.

Add the dry ingredients to the wet ingredients bowl and combine thoroughly.

Gently fold in the fresh or frozen blueberries and combine gently by hand to avoid crushing the blueberries.

Fill the lined muffin cups 3/4 full and bake for about 22 minutes.
Notes
Substitutions for the eggs
Instead of the eggs, you can use
2 flax eggs, or
6 tablespoons aquafaba (the liquid from canned chickpeas)
Also keep in mind
I'm baking at elevation (5600 ft), so your results may vary.
Nutrition
Calories:
167
kcal
|
Carbohydrates:
21
g
|
Protein:
5
g
|
Fat:
8
g
|
Saturated Fat:
1
g
|
Polyunsaturated Fat:
2
g
|
Monounsaturated Fat:
2
g
|
Cholesterol:
23
mg
|
Sodium:
176
mg
|
Potassium:
164
mg
|
Fiber:
3
g
|
Sugar:
7
g
|
Vitamin A:
49
IU
|
Vitamin C:
2
mg
|
Calcium:
64
mg
|
Iron:
1
mg