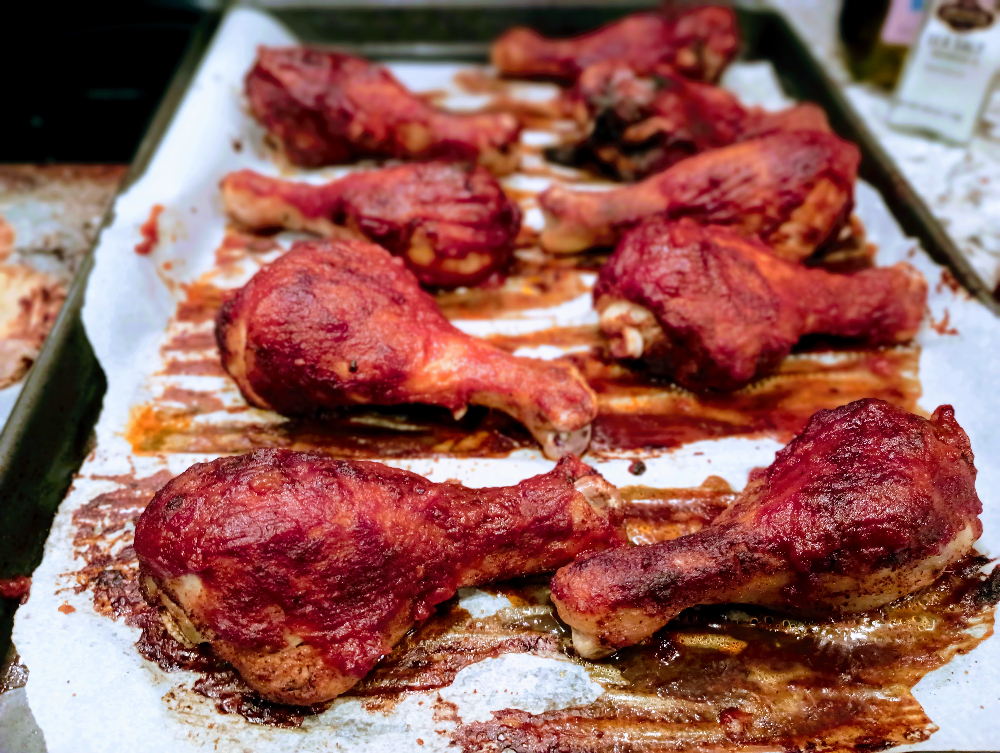 BBQ Chicken Drumsticks are about as family-friendly a recipe as you can get. And these are low FODMAP to boot!
When my eldest first started eating a low FODMAP diet, there were so many foods on the "No" list, it was hard for me to wrap my head around. I started out keeping things pretty simple, serving very basic foods. Getting used to cooking without garlic and onion really did a number on me. Before long, my kiddo was asking, "Can we please have some food with some FLAVOR in it? Maybe something a little spicy?" So I started looking at ways to create low FODMAP versions of some of their favorite comfort foods.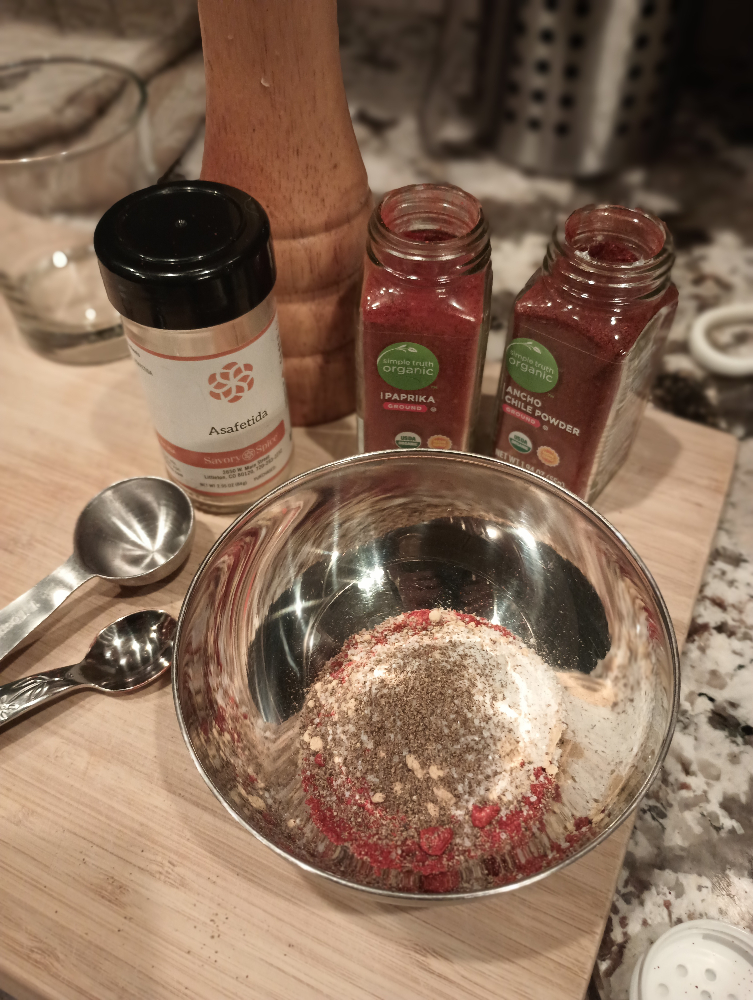 This recipe calls for a few unusual ingredients, so be aware. Most importantly, is a low FODMAP BBQ sauce. You can either purchase this online (most grocery stores do not carry it), or you can make your own. We've enjoyed making this one from Fun Without FODMAPs. Next is a low FODMAP garlic-infused olive oil. I use this in place of garlic. FODMAPs are not water soluble, so oil infused with garlic retains the garlic flavor without the FODMAPs. We are able to purchase this one at our local grocery store, but you may have to get it online. And finally, the last unusual ingredient is asafetida. Asafetida (also spelled asafoetida) is a powdered spice that has been used since Ancient Roman times, and is commonly used in Indian cuisine. It has a vaguely onion-ish flavor but is low FODMAP, so it's a great substitute ingredient. I was able to purchase some at a local spice shop (call ahead – they don't all carry it), but you can always order some online.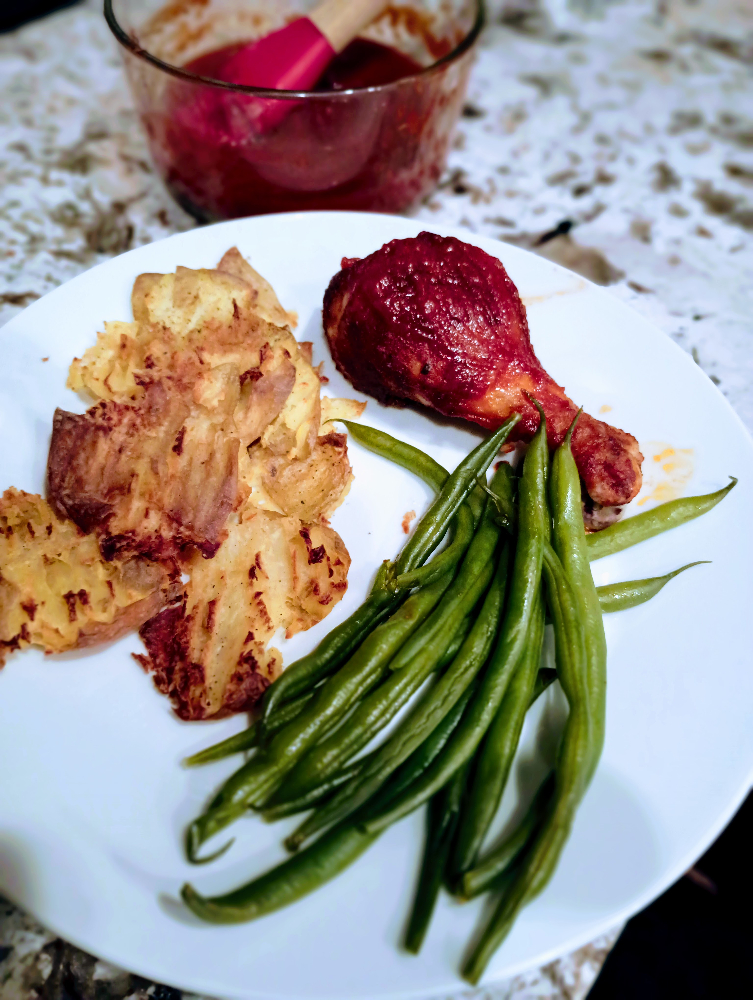 One other thing to note, these BBQ Chicken Drumsticks are not super quick to make. Once you get the rub on them, they need at least 30 minutes in the fridge for the seasoning to permeate the meat, and then they take a full hour to cook in the oven. Last time I made them, I paired them with some Smashed Potatoes and simple steamed green beans. I hope you enjoy them. Let me know how it went in the comments!
BBQ Chicken Drumsticks (Low FODMAP)
Zesty BBQ chicken drumsticks that are lowFODMAP and delicious
Ingredients
3.5 – 4

lb

free range chicken drumsticks

10-12

1

tbsp

asafetida powder

1

tbsp

chili powder

1

tbsp

smoked paprika

1

tsp

ground ginger

1

tsp

salt

1

tsp

pepper

2

tbsp

garlic infused olive oil

2

cups

low FODMAP BBQ sauce

see notes below
Instructions
Preheat the oven to 350* and line a rimmed baking sheet with parchment paper.

Place the drumsticks in a large mixing bowl. Combine the seasonings together (asafetida, chili powder, smoked paprika, ground ginger, salt and pepper) in a small bowl and mix them thoroughly.

Sprinkle the spices over the drumsticks, and using clean hands, rub the seasonings into the drumsticks until they are thoroughly coated. Refrigerate the seasoned drumsticks for at least 30 minutes to allow the flavors to infuse.

Lay the drumsticks out on the baking sheet with a little space between each one. Drizzle them with the garlic infused olive oil. Bake for 20 minutes. Flip the drumsticks. Bake for 20 more minutes.

Remove the baking sheet from the oven, and brush each drumstick with BBQ sauce. Return to the oven and bake for 10 minutes. Remove from the oven, flip, brush with BBQ sauce and return to the oven and bake a final 10 minutes.

Remove from the oven and serve hot with extra BBQ sauce.
Nutrition
Calories:
818
kcal
|
Carbohydrates:
41
g
|
Protein:
68
g
|
Fat:
41
g
|
Saturated Fat:
10
g
|
Polyunsaturated Fat:
8
g
|
Monounsaturated Fat:
18
g
|
Cholesterol:
349
mg
|
Sodium:
1788
mg
|
Potassium:
1130
mg
|
Fiber:
2
g
|
Sugar:
32
g
|
Vitamin A:
1360
IU
|
Vitamin C:
1
mg
|
Calcium:
79
mg
|
Iron:
4
mg